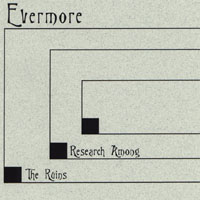 Download the album
(a zip of 192 kbps mp3's, plus album artwork in pdf)
Evermore is: Jeff Germscheid, Blake Freeman Smith and Chris Rueger
Produced by Evermore.
Mastered by Chris Rueger at LoveFish Productions.
Cover design by Blake Smith.
© by each respective songwriter/s.
We were now joined by Chris after he got back from FL. A couple tunes here were recorded as various MTSU projects. And the rest were the result of a great opportunity to record out in the woods of west TN at an industry veteran's personal studio, (and all the great gear AND the person who knew how to run it all!).
Frau Eva
Written by Blake Smith and Jeff Germscheid.
Jeff Germscheid - vocals, piano, organ, dw-8000
Blake Smith - vocals, acoustic guitar
Chris Rueger - bass, distorted bass
Marie Hickey - vocals
Pete Stringfellow - drums
Recorded and mixed by Jenny Rosato at Georgekel studio.
top
Misogyny
Written by Jeff Germscheid.
Jeff Germscheid - vocals, piano
Blake Smith - acoustic and electric guitar, bass
Marie Hickey - vocals
Rick Lay – drums, percussion
Recorded by Matt Hamilton and Dan Shike at MTSU.
top
Smiles
Written by Jeff Germscheid, arrangement by Blake Smith.
Blake Smith - vocals, acoustic guitar, mandolin, doumbek
Ehren Bivins - bass, kick drum, bgv
Recorded by Jeff Germscheid at MTSU.
top
I Adore
Written by Jeff Germscheid.
Jeff Germscheid - vocals, jd-800, drum programming
Blake Smith - electric guitar
Chris Rueger - bass, drum programming
Marie Hickey - vocals
Recorded by Chris Rueger at Lovefish Productions.
top
Wind and Carstart
Written by Blake Smith and Jeff Germscheid.
Jeff Germscheid - vocals, piano
Blake Smith - acoustic guitar, electric bass
Rick Lay - percussion
Ehren Bivins - upright bass
Recorded by Matt Hamilton and Dan Shike at MTSU.
top
You
Written by Jeff Germscheid.
Jeff Germscheid - vocals, organ
Blake Smith - acoustic guitar
Chris Rueger - bass, electric guitar
John Cooper - viola
Pete Stringfellow - drums
Recorded by Jenny Rosato at Georgekel studio.
top
Gas Attendant
Written by Chris Rueger and Jeff Germscheid.
Jeff Germscheid - vocals
Chris Rueger - delay bass
Blake Smith - guitar synth (ESQm), fretless guitar, door
God - rain
Recorded by Jenny Rosato at Georgekel studio.
top
With Knowing Eyes
Written by Blake Smith.
Blake Smith - vocals, electric guitar, distorted bass
Jeff Germscheid - vocals, jd-800, wurlitzer
Chris Rueger - bass, leslie speed, electric guitar
Pete Stringfellow - drums
Marie Hickey - vocals, drumstick
Recorded by Jason "The Walrus" Taylor at Imagine Studio, Nashville, TN.
top