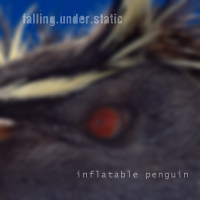 Download the album
(a zip of 192 kbps mp3's, plus album artwork in pdf)
FUS is:
Jeff Germscheid, Blake Smith, Chris Rueger, Vinnie Alibrandi.
This album took a very very long time to finish.
Basic tracks recorded from 2000 to 2003 at Dusk Audio by Vinnie, except where noted.
Overdubs through 2004 at Dusk Audio and LoveFish.
Mixing through 2005.
Jenny Rosato Lutkins did some Jeff vocals on a couple of these. I'll have to confirm which ones.
In general, tracking was done on Vinnie's Pro Tools rig. Overdubs at LoveFish were done in Cubase. All vocals AT 4033. Blake used a Mesa Boogie IIC+. Chris used a Fender Twin Reverb and both Chris and Blake used Line6 Pods.
Dusk Audio, by the way, was Vinnie's recording/mastering studio at the time. It was a large... warehouse, with a little sub-building in it where the studio resided. It's where we practiced and did some recording. It is now a rock climbing place.
Penguin photo is licensed under Creative Commons Attribution 2.0 License.
Author: suneko | original photo
Samurai
Written by Blake Smith and Jeff Germscheid.
Jeff - vocals, keys
Blake - guitars, ADG
Chris - bass
Vinnie - drums
Some overdubs at LoveFish-South, mixed by Vin at Dusk Audio.
top
Nicaragua
Written by Blake Smith.
Blake - vocals, guitars, mandolin
Jeff - keys, Yamaha FS1R, bgv
Chris - bass
Vinnie - drums
Recorded and mixed by Vin at Dusk Audio.
top
Regenerate
Written by Jeff Germscheid.
Jeff - vocals, keys, Nord Electro
Blake - Austin Douglas Guitars (ADG) 10 string touch guitar
Chris - guitars
Vinnie - drums
Some overdubs at Lovefish-North.
Mixed by Vin and Jeff at Vinnie's place.
top
Please Come Home
Written by Jeff Germscheid.
Jeff - vocals, keys, bgv
Blake - ADG, guitars, bgv
Chris - guitars, bgv
Vinnie - drums, bgv (was he the one that was falling asleep singing?)
Javier - congas (need to find out who this was...)
Basic tracks done at House of David, recorded by ???
Overdubs and mix - Chris at LoveFish-South.
top
Schroder
Written by Blake Smith.
Blake - vocals, guitars
Jeff - bgv
Chris - bass
Vinnie - drums
Overdubs and mix - Chris at LoveFish-North.
top
Ordinarily Autumn
Written by Chris Rueger.
Chris - vocals, guitars, drum programming
Jeff - keys, Ensoniq SD1, bgv
Blake - ADG
Vinnie - drums
Overdubs and mix - Chris at LoveFish-North.
top
Not Like You
Written by Jeff Germscheid.
Jeff - vocals, keys
Blake - ADG, sustain guitar
Chris - guitars, stacato bass
Vinnie - drums
Overdubs and mix - Chris at LoveFish-North.
top
Silent Duplicity
Written by Chris Rueger.
Chris - vocals, guitars
Jeff - keys, bgv
Blake - bass, bridge guitar lead, baritone guitar
Vinnie - drums
Recorded and mixed by Vin at Dusk Audio.
top
Subtle the Accused
Written by Jeff Germscheid.
Jeff - vocals, keys
Blake - guitars
Chris - bass
Vinnie - drums
Overdubs and mix - Chris and Jeff at LoveFish-North.
top
Fader
Written by Jeff Germscheid.
Jeff - vocals, keys, angst and resolution
Blake - ADG, beefy rhythm guitar, misc noises
Chris - guitars, bowed bass, etc. etc.
Vinnie - drums, donuts (and 1 beer)
Overdubs and mix - Chris and Jeff at LoveFish-North.
top