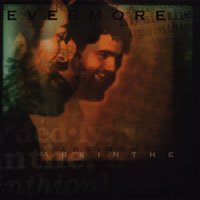 Download the album
(a zip of 192 kbps mp3's, plus album artwork in pdf)
Evermore is: Jeff Germscheid, Blake Smith.
©(P)1997 Jeff Germscheid except "Where's the Zipper," Blake Smith and Jeff Germscheid.
Produced by Jeff Germscheid.
Mastered by Matthew Montgomery.
Artwork: Brian McIntire
The debut album (sort of). This is a collection of songs recorded at MTSU as various school projects. It's amazing how cohesive an 'album' this came out to be. Classic.
Prologue
Written by Jeff Germscheid.
Jeff Germscheid - vocals, piano, organ, programming
Blake Smith - acoustic and electric guitars, guitar synth
Rick L. Lay Jr. - percussion
Recorded by Jenny Rosato at MTSU.
top
Pleasure
Written by Jeff Germscheid.
Jeff Germscheid - vocals, piano, wurli, programming, percussion
Blake Smith - acoustic and electric guitars, percussion
Bryant Russel - bass
Jonathan Cooper - viola
Recorded by Kim Hunter and Chris Rueger.
Mixed by Kim Hunter, Chris Rueger, Jeff Germscheid, Blake Smith, and Jason Taylor (flying fingers automation!).
Recorded and mixed at MTSU.
top
She Lies
Written by Jeff Germscheid.
Jeff Germscheid - vocals, piano, percussion
Blake Smith - acoustic guitars
Bryant Russel - bass
Jonathan Cooper - viola
Recorded by Kim Hunter and Chris Rueger.
Mixed by Kim Hunter, Chris Rueger, Jeff Germscheid, Blake Smith, and Jason Taylor (flying fingers automation!).
Recorded and mixed at MTSU.
top
King Prozac
Written by Jeff Germscheid.
Jeff Germscheid - vocals, piano, organ, programming
Blake Smith - electric guitars, guitar synth
Rick L. Lay Jr. - percussion
Joshua Caleb Green - drums
Alan Moon - bass
Recorded by Paul Van Dyke at Tall Cotton Studios.
top
Confidence
Written by Jeff Germscheid.
Jeff Germscheid - vocals, piano, organ
Blake Smith - acoustic guitar
Recorded by Dan Shike.
Cool things happen when most are sleeping.
top
Where's the Zipper
Written by Blake Smith and Jeff Germscheid.
Jeff Germscheid - vocals, piano, organ, programming
Blake Smith - electric guitars
Joshua Caleb Green - drums
Alan Moon - bass
Recorded by Paul Van Dyke at Tall Cotton Studios.
top
Smiles
Written by Jeff Germscheid.
Jeff Germscheid - vocals, piano
Blake Smith - acoustic guitar
Recorded by Paul Van Dyke at Tall Cotton Studios.
top
Father
Written by Jeff Germscheid.
Jeff Germscheid - vocals, piano, programming
Blake Smith - electric guitars
Shane Smith - drums
Recorded by Keith Folkert and Paul Van Dyke at MTSU.
top
Winter Morning Sunrise
Written by Jeff Germscheid.
Jeff Germscheid - piano
Recorded by Chris Rueger, live to DAT at MTSU.
top
Sometimes
Written by Jeff Germscheid.
Jeff Germscheid - vocals, piano, organ, programming
Brent Lazenby - drums
John Lazenby - bass
Recorded by Keith Folkert and Paul Van Dyke at MTSU.
top