Falling Evermore...
Falling Under Static was a rock band active in the Nashville, TN area from about 2003 to 2005. FUS thrived on creative diversity, incorporating genres ranging from progressive rock to heavy metal to textural electronica and combined into unique musical arrangements. FUS started out as Evermore in 1997, but took on the new name in 2003 to both signify a new musical direction and to avoid any legal entanglements.
Jeff Germscheid - vocals, keyboards
Blake Smith - guitar, touch guitar, vocals
Chris Rueger - bass, guitar, etc.
Vinnie Alibrandi - drums
Evermore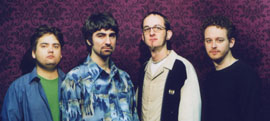 The band Evermore originally started in 1993 as a synth-pop collaboration between Germscheid and another keyboardist, but differing creative interests caused the duo to go their separate ways. The idea of collaborating started again in 1996, when Germscheid met first Smith, and then Rueger in college. All three were attending the recording industry program at MTSU and were involved in seperate projects, but found that they shared a creative link and soon began working together. After a year, and the recording of their first independent CD, Absinthe, the three looked to expand out from their studio endeavors into live performance. They began staging "art shows" at regional theaters, including dramatic lighting and paintings by local artists on stage in addition to a musical concert. In doing these performances, they met Alibrandi, who initially came to them as a "gun-for-hire" drummer, but stayed with the band, sharing both their musical vision and interests.
Their first album, Absinthe, is a collection of the various recording projects that brought the band together. Many of these recordings were school projects where they each honed their studio skills. The second CD, Research Among The Ruins, is derived mainly from the deeper songwriter musings of Smith and Germscheid. The third release, Rapport With Rhinos, was a transition album between Evermore and what was to become Falling Under Static. It contains a "best-of" collection of sorts from previous works, plus a selection of previously unreleased recordings.
Falling Under Static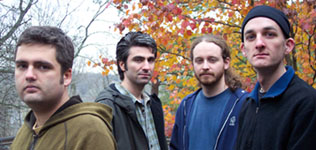 Falling Under Static represented a new focus on the current lineup and what each member brought to the collective vision, more-so than the previous incarnation as Evermore. Practices were held in an old warehouse, where recordings were also made for a new album. Energetic live shows were held, showcasing the band's unique and layered sounds of guitar, synth, and odd meter. Eventually, life moves on, and Falling Under Static quietly disbanded in 2005.
Trevor Goodchild
In 2007 Jeff formed a new band, Trevor Goodchild. More information on Trevor can be found at their website, trevorgoodchild.net
---